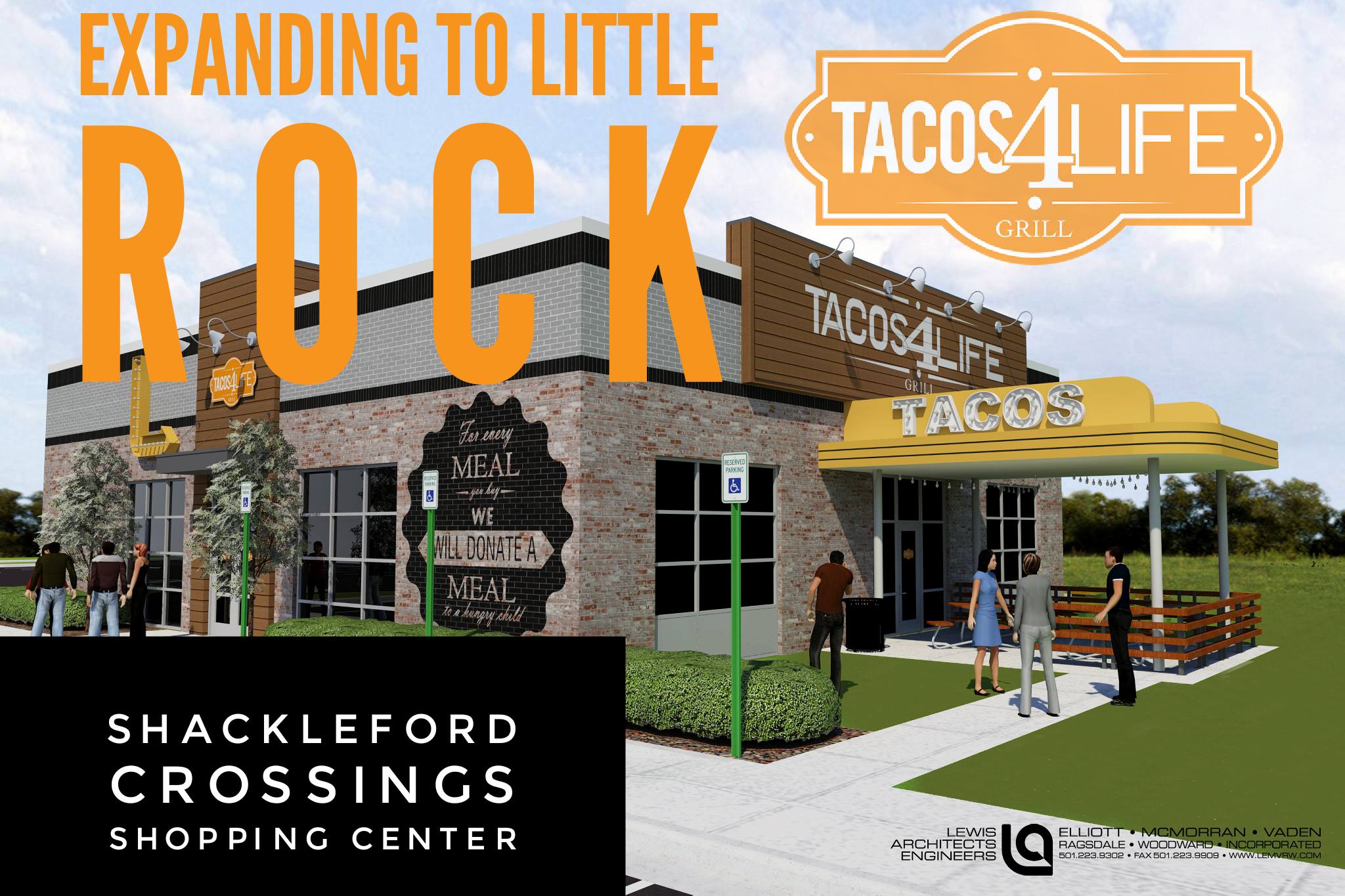 For the love of tacos.
The day that every Little Rockian with tastebuds has patiently waited for, prayed for and possibly even offered up their first-born for has finally arrived. Tacos 4 Life is coming to Little Rock.
The incredibly popular taco mecca will be joining the Shackleford Crossings Shopping Center family early next year and will be located on the 1-acre lot between Longhorn Steakhouse and Boomerang Carwash. The 3,800 square foot restaurant will include a drive-thru and outdoor patio.
Known for much more than delicious, made-from-scratch tacos and their famous mustache punch, Tacos 4 Life donates 22 cents for every taco, quesadilla, burrito, salad or rice bowl sold to help feed children around the world. 22 cents is the cost of one meal for a malnourished child through the non-profit organization Feed My Starving Children. Meals purchased through Taco's 4 Life buy a meal, give a meal mission are currently being sent to starving children across Swaziland, Africa, and Honduras. You can learn more about the company's mission here.
The Shackleford Crossings addition will mark the fourth location for owners, Austin Samuelson and his wife, Ashton. There are currently two Tacos 4 Life restaurants in Conway and one in Fayetteville.
"Our main focus as a restaurant is to feed hungry children by providing customers with made-from-scratch amazing food," said Ashton Samuelson. "Opening another location will allow us to build relationships in a new community and raise even more meals for hungry children."
Tacos 4 Life was represented by Josh Brown and Nathan Eller of Haag-Brown while Hank Kelley, Eric Varner, Brooke Miller, and Cynthia Lu of Flake & Kelley Commercial represented the Seller.
Five of the restaurants currently located at Shackleford Crossings have been ranked among the top 25 restaurants in sales for Little Rock. Flake & Kelley Commercial believes Tacos 4 Life will be a wonderful addition.
To learn more about what the Shackleford Crossings Website has to offer click