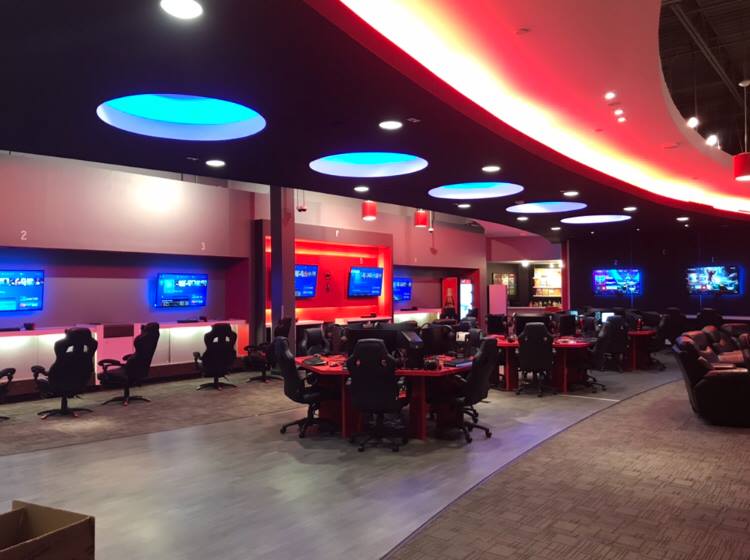 A New Way to Play – Spec Ops Gaming
Spec Ops Gaming is Little Rock, Arkansas' first gaming lounge. Outfitted with lounge chairs and multiple setups, this is the go-to-place for an incredible gaming community.
Gamers can head to Spec Ops Gaming to play the latest released games with their friends and family. Or, they can take a dive into the classics and enjoy old school SNES games.
This is a safe space for all types of gamers to enjoy their hobby around likeminded folks.
Many Ways to Play
At Spec Ops Gaming, guests enjoy a state of the art gaming space complete with a large gaming library.
Spec Ops offers the following console brands:
PC
Xbox
PlayStation
SNES
NES Classic
All gamers need to get started is to talk to a member at the front desk.
Gamers aren't limited by our available options – than can also bring their own setup.
Perfect for Tournaments & Parties
Host a fighting game tournament, or Fortnite competition in their competitive lounge.
Eat & Drink
Gamers will enjoy a cereal bar stocked with sugary delights to give their gaming the ultimate edge. They can also enjoy a drink from Spec Ops extensive drink menu.
Pricing
Spec Ops Gaming provides an excellent gaming lounge at competitive prices:
Hourly: $7.00
All Day Pass: $25.00
Monthly Pass: $59.99 ($49.99 before Nov. 4th)
Annual Pass: $600.00
A 10% discount is available for college students, military, police, firefighters, and EMTs with proof of ID.
Hours
Sunday: 1:00pm-8:00pm
Monday-Thursday: 3:00pm-12:00am
Friday-Saturday: 1:00pm-1:00am
Gamers in Little Rock, AK Finally Have a Space to Host Their Local Gaming Community
Come to Spec Ops Gaming to meet other Little Rock locals in the gaming community. Gamers may find their next raid group, or squad there!