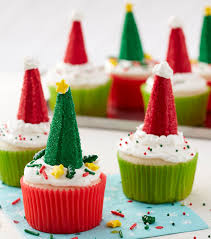 SUPPLIES & TOOLS:
Favorite cake mix or recipe (4 cups batter needed)
Buttercream icing recipe
Holiday Mega Sprinkles set
Extra-Fine FoodWriter marker (optional)
Sugar cones (one per cupcake)
Kelly green icing color
Red-Red icing color
Standard 12-Cup Muffin Pan
Standard Rainbow Brights cupcake liners (green liners used)
Standard Primary Colors cupcake liners (red liners used)
Cooling grid
9" Angled spatula
Craft knife
3-Piece Decorator brush set
Ruler
Disposable decorating bags
Round decorating tip 5
DIRECTIONS:
1. Bake cupcakes. Prepare cake batter following recipe instructions. Bake and cool cupcakes in red and
green cupcake liners.
2. Ice cupcakes. Using spatula, ice cupcakes with creamy white icing. Top with desired sprinkles.
3. Make trees and hats. Using FoodWriter, mark line around cone at 2 in. from tip. Using wet brush, wet
cone at mark. Using knife, cut cone following line. Repeat for a total of 24 mini cones.
4. Tint icing. Using Kelly Green and Red-Red icing colors, tint 1/2 cup icing each green and red.
5. Decorate trees and hats. Using spatula, ice half of cones with green icing. Cover with green sanding
sugar. Repeat with red icing and red sanding sugar on remaining half of cones.
6. Place red cones on green cupcakes and green cones on red cupcakes.
7. Decorate cupcakes. Prepare decorating bag with tip 5 and white icing. Pipe fur around bottom edge of red
cones and on top point of red cone to form Santa hats.
8. For trees, pipe dot of icing on top point of green cones. Attach yellow star sprinkle.